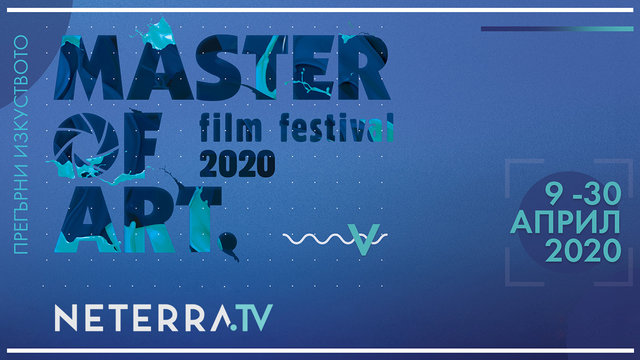 From April 9 to April 30, 2020, Neterra.TV+ will host the first online edition of the Master of Art Documentary Film Festival. It is a unique cultural event and the only international festival of documentary films dedicated to the arts in Eastern Europe.
The ticket for the whole event, which includes a large package of short films and over 25 feature films, is priced at BGN 10. It can be paid with one click online or at Easypay's cash desk after receiving a code from the website. The festival can be viewed online from anywhere in Bulgaria. The only conditions are ticket availability and internet access.
Neterra's marketing manager Maya Kalcheva commented on how this event was organized: "In the current situation of physical and social distance, Neterra decided to lend a hand to the Master of Art documentary festival and make it for the first time in Bulgaria 100% online version of a movie event.
Especially for fans of online entertainment, we recently created NeterraTV+. This is a platform in which anyone can rent or buy the latest and highest quality Bulgarian films, series, lifestyle shows, and various live events.
Through our Event Streaming service, we help major offline event organizers reach the general public worldwide.
As fans of value documentaries, we eagerly awaited the fifth edition of the Master of Art Film Festival. Unfortunately, there was a real risk that it would not happen. But with the changing situation, combined with the initiative of Nayo Titsin and the readiness of our team, we managed to make the first Bulgarian online film festival. And here it is already a fact. It is an honor for me and my Neterra colleagues to host and partner with this wonderful cultural event."
The festival's titles include "Talk with Roma Schneider" and "Jørn Utzon: The Sydney Opera" by Patrick Jody, "Lucifer" by Maria Nikolova, "The Elemental Medea" by Nayo Titsin, "The Age of Solzhenitsyn" by Olesya Fokina, "Abstract Art: Clifford Style" by Dennis Scholl, "In Search of an Oscar" by Octavio Gera Quevedo and many more. For more information on the festival, visit the Neterra.TV Facebook page or https://neterra.tv/extras/master-of-art.