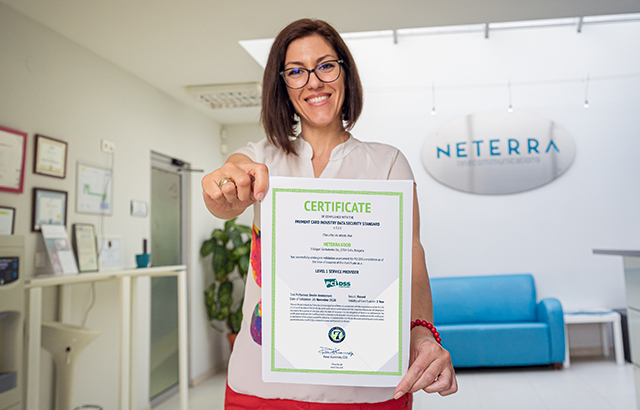 Neterra's newest data center - SDC Stolnik, has successfully passed the PCI DSS (Payment Card Industry Data Security Standard) certification process. Thus, the independent Bulgarian telecom adds another data center under the SDC brand, which meets the international standard for information security.
PCI DSS guarantees security and safe handling of data and assets of both Neterra and customers co-located in the company's data centers.
The certification process is thorough and demanding. After successfully passing it, the company will be subject to comprehensive audits and inspections every year.
Neterra customers can use the fact that they are co-located in a PCI DSS certified data center as their competitive advantage in international markets. This will make them a preferred business partner and contribute to their good reputation.
At the same time, they will be sure that their equipment is stored and maintained in line with the highest standards - with 24-hour security, cameras at key locations, continuity of services (reserved generators and air conditioners, firefighting), strict procedures for admission to the collocation halls.
Customers are admitted to visiting Neterra's data centers only accompanied at all times by an authorized engineer from the technical team.
More about Neterra's data centers
Neterra owns four data centers - Sofia Data Center (SDC Sofia), Sofia Data Center 2 (SDC Sofia 2), Data Center Ruse (SDC Ruse) and Data Center Stolnik (SDC Stolnik).
SDC 1 and SDC 2 are constructed in accordance with the requirements of TIER III. Their buildings are specially designed for data centers and meet the highest technical requirements in the industry. SDC 2 is under construction and will open in 2021.
Ruse Data Center is the main point of presence of BFOR (Bulgarian Fiber Optics Rout) - the shortest optical cable route between Romania and Turkey. Thanks to its location and reliable connectivity, SDC Ruse is a preferred place for providing uninterrupted IT services in an alternative geographical point (disaster recovery services), as well as for services that ensure business continuity in case of force majeure (Business continuity planning).

Stolnik Data Center is located near the largest substation in SEE and 20 minutes from Sofia Airport. It is part of the Data Center Park Stolnik - the largest data center and telecommunications hub in the region, offering unlimited space for colocation and power. SDC Stolnik also has specially designed halls for crypto mining.