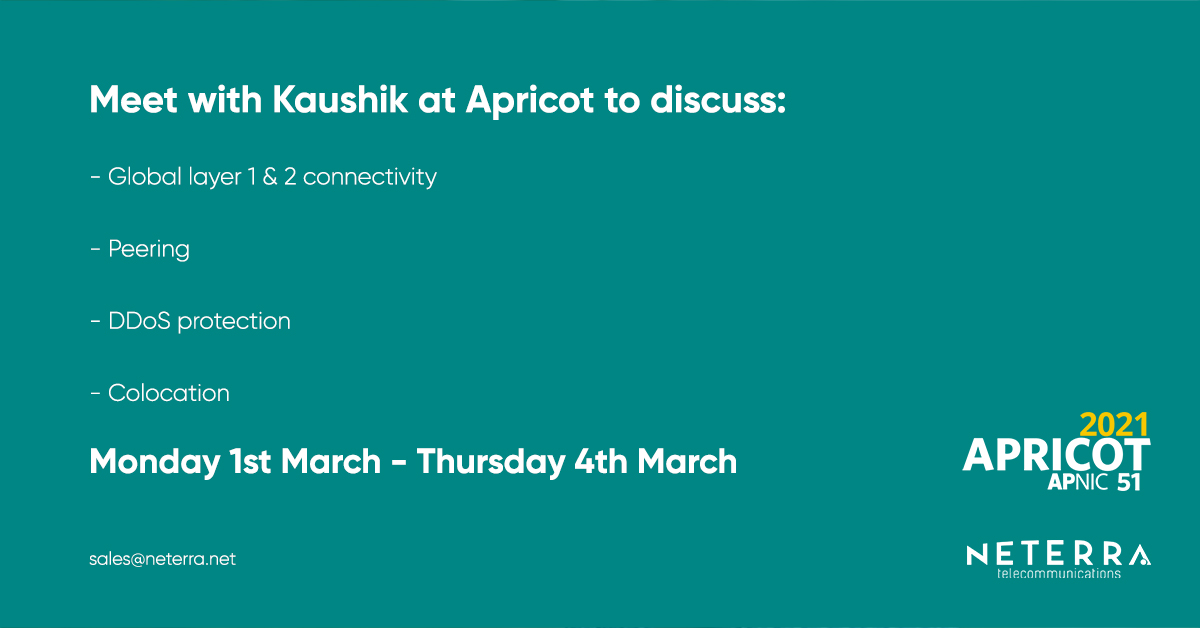 Kaushik Sengupta will represent Neterra at the Asia Pacific Regional Internet Conference on Operational Technologies APRICOT. It will take place online from March 1 to 4, 2021. If you are among the participants in the event, you can either reach him out via the APRICOT event tool or through LinkedIn or email.
Throughout the Asia Pacific Region, Internet service providers, backbone and regional networks, web hosting facilities, firewalls, and Intranets are being created, deployed, and installed at a staggering pace. The technicians, managers, entrepreneurs, and decision-makers are under tremendous pressure to master the skills necessary to build and operate these increasingly complex systems.
The Asia Pacific Regional Internet Conference on Operational Technologies (APRICOT) mission is to provide a forum for those key Internet builders in the region to learn from their peers and other leaders in the Internet community from around the world.
Held annually, the summit consists of seminars, workshops, tutorials, conference sessions, birds-of-a-feather (BOFs), and other forums all to spread and share the knowledge required to operate the Internet within the Asia Pacific region.
If you want to learn more about Neterra and how our connectivity services can improve your network, contact our expert team.
Join Apricot by registering here.