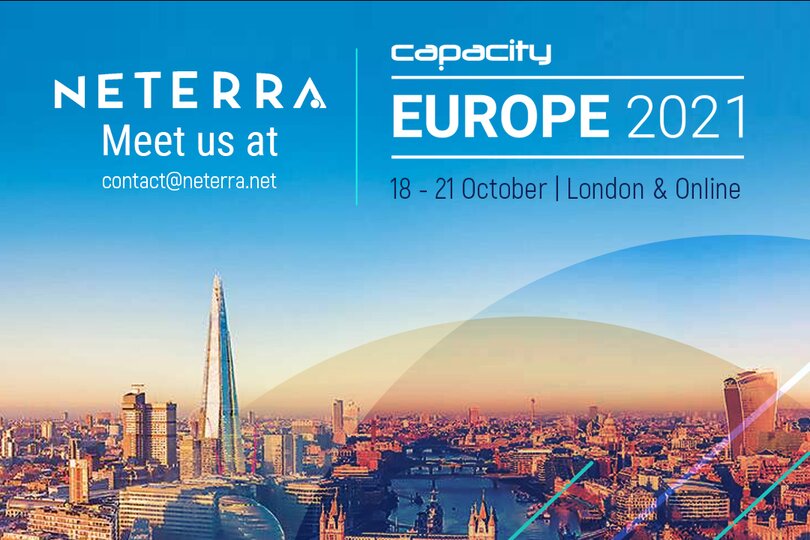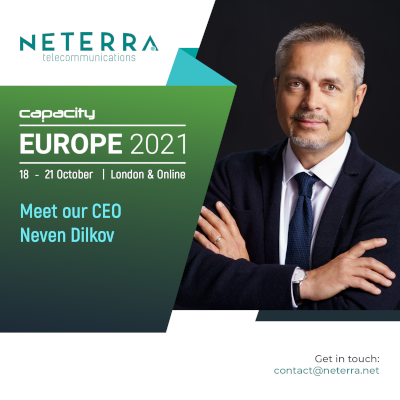 Capacity Europe 2021 will mark one of the first in-person events since March 2020. Neterra's representatives attending this event will be Neven Dilkov – Chief Executive Officer, Chris Harper - Chief Commercial Officer, Edgar Navarro - Global Sales.
Europe's largest telecoms networking conference and awards will take place in London from October 18th to 21st in a blended format: in-person and online.
Neven Dilkov will be also a speaker in the live session Caucasus and Central Asia: New Frontiers and the Digital Silk Way at 10:00 – 11:00 am BST, on Wednesday 20th October. You can watch the presentation online for free by registering at this link: https://events.capacitymedia.com/event/b5ffad79-4cf0-430f-99a0-e6dadf8d0228/register
"The world is going through tremendous stress right now. There are disruptions in the supply chain in all industries. We know that very well and we are positioning Neterra, with an expanded team of professionals, with more than 25 years of experience behind us, to be the source of stable and reliable Dedicated Internet and SD-WAN solutions globally. As part of our strategy, we also run the world's first Global Internet Exchange. NetIX revolutionised the way our industry exchanges traffic - it made it faster, cheaper, more efficient, and more reliable than ever" - Neven Dilkov said.
If you have specific questions and would like to know further information about Neterra's network-enhacing solutions and how they will better your network, or if you'd like to arrange a meeting for Capacity Europe 2021, please get in touch with the Neterra team at contact@neterra.net!