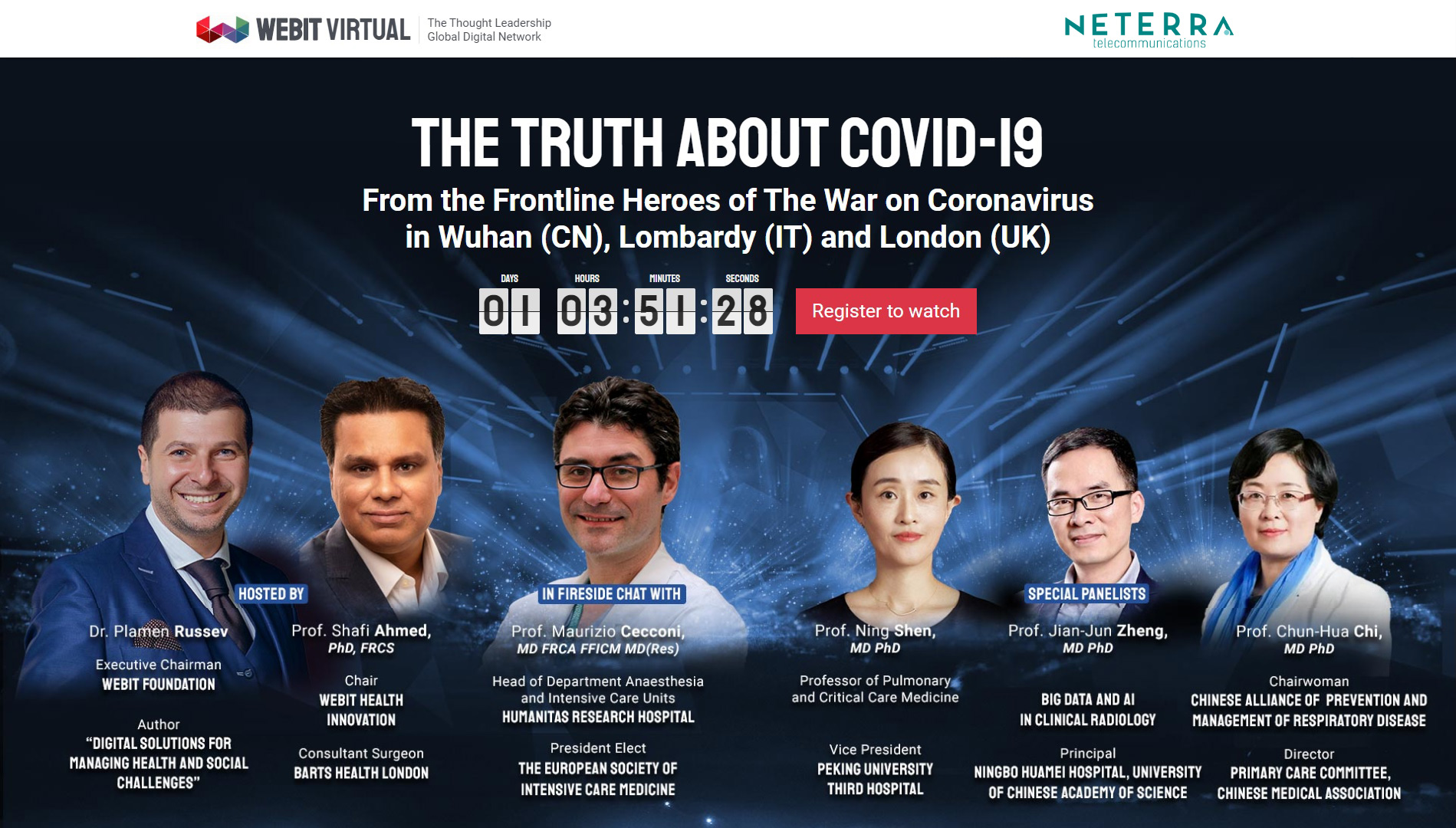 Neterra is a partner of the WebIT Foundation for the implementation of the new WebIT Virtual project. This is a one-hour online program. It starts on Saturday, April 4, at 6 pm Bulgarian Time (3:00 pm Greenwich Mean Time (GMT) online at virtual.webit.org.
As a partner of the event, Neterra provides the technical solution to make the video reach daily more than 800,000 viewers worldwide.
Thanks to the technical capabilities, years of experience, the solid infrastructure of data centers, servers, optical networks and excellent connectivity around the world, Neterra will provide the capacity necessary for all viewers to watch every edition of WebIT Virtual online simultaneously.
True to the tradition of being the first to offer innovative solutions tailored to the clients' needs, Neterra provides WebIT Virtual project with Event Streaming service.
This enables the WebIT Foundation to focus on its core mission – to create a global debate and sharing scene with world-renowned business leaders, politicians, investors, media representatives, and scientists.
Each broadcast will focus on a specific topic such as health innovation, cyber technology, digital entertainment and media, mobility, fintech, blockchain, policy and defense innovation, mobile innovation, the future of food, work and education, and more.
The topic of the first show is "The Truth About COVID-19" featuring "front line heroes" in the war on the Coronavirus in Wuhan (China), Lombardy (Italy), London (United Kingdom).
Among them are Prof. Maurizio Cecconi – a leading global expert in intensive care from Lombardy in Italy; Dr. Ning Shen, Professor of Pulmonary and Critical Care Medicine, led a team of medical experts in Wuhan – China in the fight against the COVID-19 epidemic; Prof. Dr. Jian-Jun Zheng, Head of the Medical Department of Beijing Hospital, and others.
In the current situation, Neterra is also actively working with other major offline event organizers to stream their events online reaching a large audience.