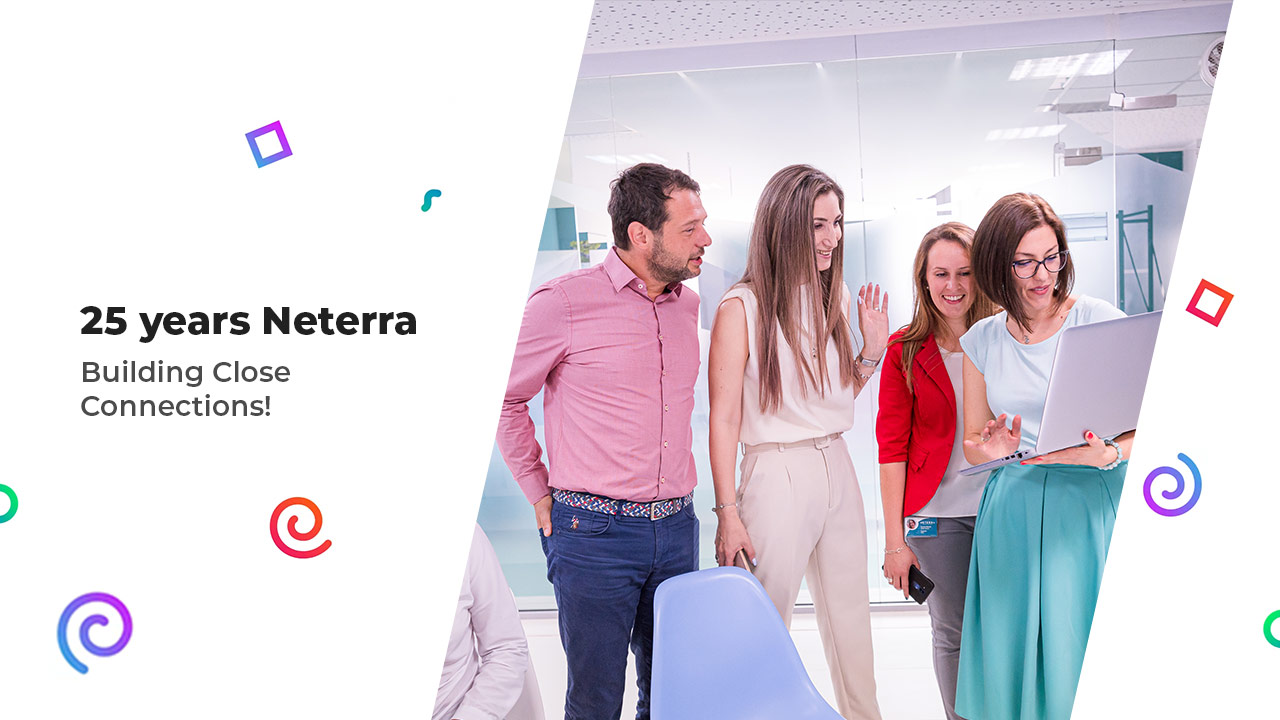 Today, 23 February 2021 the independent Bulgarian telecommunications operator Neterra celebrates its 25 years anniversary.
This year the company has set ambitious goals. They motivate the team and partners and keep alive the entrepreneurial spirit that Neterra has developed over the last quarter of a century. The company is expanding its network and diverse portfolio of services in South and North America, the Middle East, Central Asia. Traditionally, Neterra is one of the trusted partners and operators of the telecom market in Europe.
Neterra provides international connectivity, network management services and business security. It has 4 own data centers, where its clients rely on IT services and 24/7 support.
Through the Cloudware brand, Neterra offers high-performance cloud and dedicated servers, DDoS protection and other IaaS, SaaS and BaaS services. The company provides fast and secure internet for enterprises, as well as a web-based GPS vehicle tracking platform with powerful data analysis capabilities called NetFleet.
Neterra is a distributor of the global data exchange platform NetIX. One of the first independent ground satellite stations in Bulgaria was also built by Neterra. The telecom offers an IPTV platform and distribution of audio-video content.
Neterra.TV develops the project for quality and legally accessible content Neterra.TV + - movies, festivals, live events and live style shows. Through it, the company enables Bulgarian content authors and their producers to receive immediate remuneration for their work and thus creates conditions for further development of the cultural environment in the country.
In 2021, Neterra's plans include carbon neutrality and investment in long-term sustainable growth through a number of key strategic initiatives, such as an expansion of its data center capacity, enrichment of the services portfolio, the introduction of industry standards, investments in network and service automation software.
One of the infrastructure projects Neterra is already working on is the construction of a second data center in Sofia. Sofia Data Center 2 (SDC 2) will be located next to the existing data center of Neterra - SDC 1.
"Today is a very happy day for us. In the past 25 years, we built a successful business, which we are justifiably proud of.
We are grateful to the thousands of customers who trusted us and relied on us all these years. We promise to continue to carry the same pioneering spirit that we had when we started and continue to surprise you every year.
We are also grateful to the hundreds of partners and suppliers that are together with us every day. For them, we have some special proposals coming this year.
And most of all we are happy to be together, all of us colleagues, for whom Neterra is and always be a symbol of professionalism and a testament of a job well done." said Neven Dilkov, founder, owner and manager of Neterra.
He believes that it is important for businesses to trust the numbers and to show persistence in developing automation projects. "In today's fast-moving world, you have to be able to ger the information that you need quickly. This does miracles to your ability to analyze, understand the market, and make decisions."
Neven Dilkov summarizes the company strategy with the words: "Go deep, work hard, and prepare for what's coming."
Listen to the first episode of Neterra's podcast, in which Neven Dilkov and George Schlosarek, Neterra's non-executive director and member of the company's board of directors, talk about business, technology, Neterra's 25th anniversary and other interesting topics.
You can watch the video about Neterra's story, told by Neven Dilkov.
Find a special greeting video from the company's team and friends on the company's corporate social media channels.