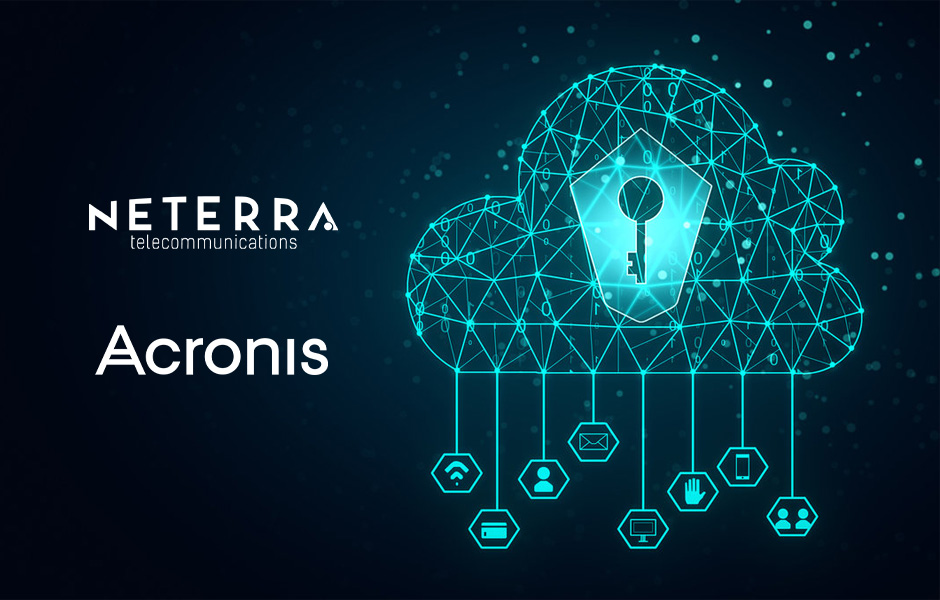 Today Neterra became an official partner of Acronis for Bulgaria. The independent Bulgarian telecom company now offers all of the cyber protection leader's technological solutions including the cloud products Acronis Cyber Backup Cloud, Acronis Cyber Files Cloud, Acronis Cyber Disaster Recovery Cloud, Acronis Cloud, and Acronis Cyber Cloud. As part of this new partnership, Neterra clients can benefit from a 30-day free trial period.
Among the biggest benefits of Acronis Cyber Backup Cloud and Acronis Cyber Files Cloud are that they provide complete protection for business data, applications, and systems. Through them Neterra clients gain access to archiving, disaster recovery, file synchronization and sharing, notarization, and electronic signature services, all managed from a single console.
With Acronis Cyber Disaster Recovery Cloud, Neterra is able to offer clients the opportunity to recover critical business data and entire websites in just a few minutes, even after a serious incident. The solution guarantees the safety and security of data with features including encrypted backups and proactive, AI-based protection from ransomware.
Acronis Cloud simplifies the IT administration process with centralized management available locally or with external archiving. Local backup and replication and the phased provision of multiple backups helps users eliminate the risks of data loss through hybrid archiving. Additionally, AES-256 encryption guarantees data access, storage, and transmission is secure.
Acronis Cyber Protect Cloud is part of Acronis' powerful Acronis Cyber Cloud platform, which allows service providers to leverage a single solution for the varied archiving, disaster recovery, secure cloud storage, file synchronization and sharing, notarized authentication, and electronic signature needs of modern clients. Additionally, Acronis Cyber Protect Cloud enables IT service providers to deploy this portfolio of solutions and services quickly and easily, increasing the average revenue of the users.
Neterra is an independent telecom company. It partners with the world's largest companies as well as small and medium-sized companies. It has been providing international connectivity, network management, and security services for almost 25 years. The company has points of presence in over 20 countries. Neterra delivers fast and secure internet. With the telecom, partners and clients rely on proactive expert support 24/7. The company has 4 data centers and provides IT services, dedicated servers, a flexible cloud platform, DDoS protection. It is a distributor of the global data exchange platform NetIX. One of the first independent ground stations for satellite services in Bulgaria was built by Neterra. The telecom offers IPTV platform and distribution of audio-video content. With the system Netfleet, the company provides services for GPS tracking of cars, trucks, agricultural machinery, and more.
Acronis sets the standard for cybersecurity through innovative creation of backups; anti-ransomware; disaster recovery; storage, synchronization, and sharing of corporate files. Enhanced by its award-winning technology for active protection, based on artificial intelligence, authentication of data, based on blockchain, and the unique hybrid cloud architecture, Acronis protects all data in any environment.
Founded in Singapore in 2003 and incorporated in Switzerland in 2008, to the present moment Acronis has more than 1500 employees in 33 locations in 18 countries. The solutions of Acronis are trusted by more than 5,5 million users and 500,000 organizations, including 100% of the companies of Fortune 1000. The products of Acronis are available from 50,000 partners and service providers in over 150 countries in more than 30 languages.