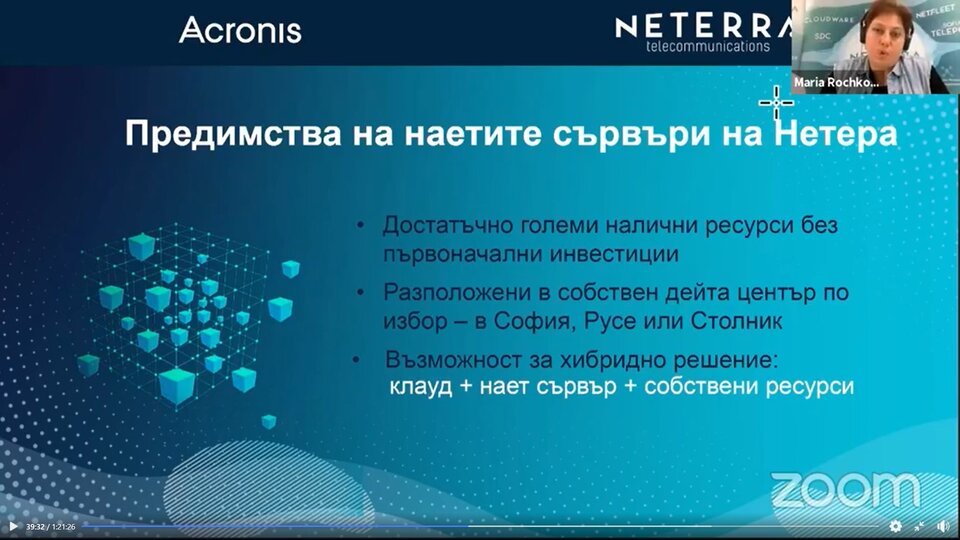 Reliable connectivity and cybersecurity are becoming key benefits for business in today's world. The participants in Acronis and Neterra's event "Cybersecurity and Cloud Solutions for Your Business", which took place today in an online format, united around this opinion.
"There are more than 400,000 new malware samples seen every day, it is thus essential to have an efficient and fast cyber protection solution that can protect all your assets.", said Candid Wüest, Vice President Cyber Protection Research at Acronis.
According to Wüest, some ransomware groups are making millions in profit each month, they clearly will not stop on their own. Businesses need a comprehensive protection solution that can stop them.
Wüest also spoke about Acronis cybersecurity technology and solutions. Key to these solutions is the integration with artificial intelligence and interdisciplinarity. For companies, this means that their data is protected in layers, at different levels, with a focus on cybersecurity.
Starting this year, Bulgarian businesses can use all Acronis cybersecurity services as a client of Neterra – a telecommunication company that provides access to reliable infrastructure, secure, high-speed connectivity, and 24/7 technical support.
Companies can co-locate their servers or rent both cloud and physical servers at one of Neterra's own data centers.
"You get a free consultation for a better choice. With cloud servers, for example, you have a flexible solution - you can increase and decrease the resources you use and optimize your costs. In some cases, however, dedicated servers are a better choice. They can meet the needs of companies with big websites, databases, as well as high requirements for security, availability, and performance.", said Maria Rochkova, IT services manager at Neterra and product manager at Cloudware.bg.
Businesses can also rely on the Bulgarian telecom for protection against DDoS attacks. These attacks affect the services of companies, their websites, systems, and equipment.
"DDoS attacks are often used to mask attempts to steal financial information or intellectual property.", said Dean Belev, product manager of DDoS protection services at Neterra. During the event, he presented DDoS protection solutions that stop attacks of different types, complexity, and scope.
The services are designed for both corporate clients like banking and financial institutions, online media, gamers and e-commerce, websites, as well as Internet service providers.
At the end of the event, participants saw a demonstration of Acronis cybersecurity functionality in real-time, conducted by Svetlin Yordanov, Senior Solution Engineer at Acronis.